Skilled Professional Course Bundle at Intellipaat Software Services, Online Course
- EXPIRED
Offer is on Skilled Professional Online Course Bundle for 1 Person
Skilled Professional Course Bundle includes Big Data, Hadoop, SAP Hana, HTML5, MS SQL & Python
Valid Online Only
Certificate of Completion
Job assistance
Click here to join more than 3,900 fans on their Facebook page
Inclusive of all taxes and service charges
It's a very rare thing that you get an offer like this. So many options included in one. Grab this Groupon and become an IT Genius or Guru, Whatever you wanna be!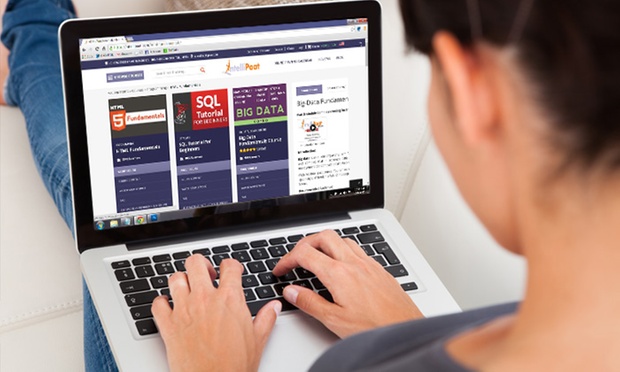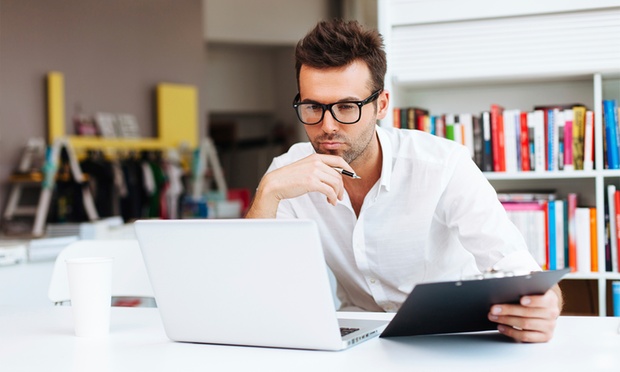 Big Data Fundamentals
Module 1-Introduction Big data
Big Data and its importance
What is Distributed System
Module 2- Examples of Big Data
Characteristics of Big Data
Introduction to Hadoop and its works
Examples of Big Data
Module 3-Hadoop Uses
What is Hadoop and How Hadoop Work?
Module 4-Installation Hadoop
Installation of Single Node Apache Hadoop
Module 5-Hadoop Architecture
Session 1: What is HDFS?
Session 2: Planning Hadoop cluster & Hardware Considerations
Session 3: Hadoop Cluster Maintenance
Module 6-Mapreduce
What is map reduce
Example program: Word count
Map phase
Shuffle and sort
Reduce phase
Name node
Module 7-Hive
Hive introduction
What is Hive?
Origin of Hive
Hadoop based system
Where we not use
Module 8-Hbase
Session 1: Apache
Horizontally scalable-why & how
Sorted map
RDBMS
Hash map
Machine failure
Liner schedule
HDFS vs. Hbase
Session 2: Do Hbase access data randomly or sequentially
Module 9 –Mahout
Session 1:
Intro to Mahout
Fundamentals of Machine Learning
Session 2
What is classified?
Classification
Clustering
Recommendation
Pattern Mining
Module 10 -Cassandra
Session 1
What is Cassandra?
Who develop Cassandra?
Non-relational
What is eventually consistent?
Session 2
Intro to No Sql and comparison with RDBMS
Comparison of RDMS and problems of RDBMS
Module 11-SAP HANA
Why Hana
Architecture & proof points
Basic Terminologies
Technical innovation in A nutshell
Hardware Technology Innovations
Software Technology Innovations
System Architecture
System Landscape
Data Services
Module 12-Storm
What is Storm and Architecture of Storm
Use Case
Module 13-Spark
What is Spark and Architecture of Spark
Use of Spark
Component of Spark
Comparison with hadoop
Module 14 -Scala
Session 1
What is Scala
Uses of Scala
Session 2
Advantage of Scala
How scala solve problems of Java and C etc
Architecture of Scala
Spark coding using scala
Module 15-Splunk
What is splunk?
Splunk latest version & OS supported.
What does splunk do?
What does splunk provide?
Hadoop Training for Beginners
Module 1- Overview
Introduction and characteristics of big data
Introduction of Hadoop and its work
What is HDFS and its explanation with example
Introduction to Map reduce?
What is Map Phase?
What is Reduce Phase?
Module 2- Understanding Hadoop
Introduction to Hadoop ecosystem
How Hadoop solve problem of typical distributed system
What is Sqoop and its working
What is Qozie and its working
What is Pig and its working
What is Flume and its working
What is Hive and its working
HDFS Storage Mechanism
How files are Stored / Read / Written in HDFS
Understanding Demons
Module 3- installation and components
Hadoop installation
Introduction to Map reduce and HDFS
Module 4- Cases
Accessing HDFS from Command Line
Map Reduce – Basic Exercises
Understanding Hadoop Eco-system
Introduction to Sqoop, use cases
Introduction to Hive, use cases
Introduction to Pig, use cases
Introduction to Oozie, use cases
Introduction to Flume, use cases
iOS Development Training
Module 1 – Introduction - Iphone SDK, Xcode, Interface Builder, Camera integration, Instruments, IOS architecture layers in detail
Introduction to Cocoa Framework
What is IOS?
History of IOS
Pre-requisite for IOS development
IOS SDK introduction
Xcode
Instruments
Simulator
IOS architecture overview
Smart features of IOS platforms
Multitasking
Passbook
Social media
ICloud
In-app purchase
Game center
Notification center
IAds rich media ads
Accelerometer
Gyroscope
Accessibility
Bluetooth
Orientations
Camera integration
Email, contacts , web pages and messages
Location services
Maps
Interaction touch based interface
Core data and database storage
IOS architecture layers in detail
Core OS layer
Core services layer
Media layer
Cocoa touch layer
Module 2 – Introduction – Iphone SDK, Xcode, Interface Builder, Objective-C, Objective C-Fundamentals, Objects and Classes
Ios app development
Objective-c overview
Understanding class and objects
Understanding x-code and hello world
Data type, variables, operators
Demo of x code
Void type
Constants
Operators
loop
Methods
Arguments
Blocks
Pointer
Module 3 – Objective C-Protocols, Properties, Objective C-Categories, Selectors, Exception Handling
Ios app development
Objective & agenda
Properties
Inheritance
Access control in inheritance
Polymorphism
Encapsulation
Objective c-categories
Characteristics of categories
Note
Extension
Syntax
Protocols
Syntax
Property of protocols
Dynamic binding
Foundation frame work-deep drive
Data storage-collection type
Exception handling
Fast enumeration – syntax
Fast enumeration – backward
Fast enumeration- forward
Module 4 – Objective C Memory Management – ARC Introduction, Design Patterns and Introduction to Developing Applications
Memory Management
Manual rules retain cycle
Important consideration when using the MRR
ARC
Design pattern – MVC
How to create first IOS application
App event handling
App lifecycle from background
IB outlet
IBaction
Events
Implementation
Module 5 – Navigation Bar Controller, Table View Controller & Customizing Cells in Table View, Tab Bar Controller, Split View Controller
Advanced controls in IOS
Toolbar
Toolbar demo
Status bar
Status bar demo
Navigation bar
Navigation bar demo
Tab bar
Tab bar demo
Image view
Image view demo
Table view Controller
Table view demo
Split view controller
Split view Demo
Module 6 – Programmatic User Interface Creation
Options for creating IOS DB
Plist file as DB storage
NS user defaults as storage
Example – How to create NS user default
SQlite for data storage
Module- 7-Introduction to Plist concept & Introduction to Core data, Map Kit Framework & Dealing with XML and RSS, Integrating with Location Services and Simulating Location services.
Core Data Services:-
Concept to understand core data
Demo of core data
How core data works
What are the important things in core data
Location Services:-
Core location framework
Core location-Demo
How we can create own delegate method
Map KIT
Annotation
Module 8 – Address Book Usage, Web Services Usage, Introduction to Notification services
IOS notification
Local notification
NS notification center
Trigger notification
UI local notification
Push notification
IOS web service integration
Address book framework
Module 9 – Testing iOS application – Using XCODE for testing and Instruments
Unit testing IOS app
How to create a new test case
Understanding XC test
Pretty function
Auto, action testing IOS APPS
UI Automation-Access element apps
Understanding Element Hierarchy
Understanding Automation
Performance testing IOS Application
Memory Analysis
CPU Analysis
I/O Activity
Graphics Analysis
Module 10 – Introduction to Sprite Kit
Understanding Sprite kit
Introduction to sprite kit components
Sprite kit view
Scenes
Nodes
Physical world
Actions
Transitions
Texture atlas
Sprite kit- Example game design
Designing the practical game
Planning for the game
Executing the game demo
Module 11 – Understanding Apple certification Process and Apple App distribution process
Apple certification and distribution process
Apple certification process
Types of certification
Registering for the certificate
Getting the access to apple developer console
Understanding apple developer console
Creating a certificate and provisioning profile
Using the provisioning profile for installing the app on device
Apple app distributed process
Creating app distribution certificate and profile
Uploading app to itunes connect
Distributing the application to the app store
HTML Training
Module 1- Introduction
Internet
Web technology
Web technology Example
Internet server
Server types
HTTP protocol
HTTP methods
HTML programming
Difference between LET & post
GET example
Post Example
HTML introduction
Tolls for create HTML document
Marketing element with tags
Adding an attribute to an aliment
Document type Declaration
HEAD element
Adding comment
Defining the structure of the page body
Defining the use of the terms HTML
Distinction between CORE & HTML5 family
HTML-5 benefits
Syntax
Multimedia support
Silver light/video
The canvas element
A drawing cont
Support tech. of HTML 5
Geo location
Drag & Drop
Web storage
Web workers
Web socket
Module 2 – Elements and Procedures
Elements of HTML file
Header Element
Navigation Element
Footer Element
Section Element
Aside Element
Address Element
Article Element
Menu Element
Problem with DIVAS
Specification for HTML
How to create menu with command table
Create menu with unordered & order list
Difference between section & Article Element
DIV element
Web form creation
MS-SQL Server Training
Module 1: Starting with SQL Server
Responsibilities of Database Administrator
Types of DBAs
History of SQL Server
Editions of SQL Server
Tools of SQL Server
Differences between Standard and Enterprise editions
Instances types in SQL Server
Default Instance
Named Instance
SQL Server Services
Instance aware services
Instance unaware services
Module 2: Installing SQL Server
Pre-requisites
Installation
Post Installation verification Session
Module 3: Functioning of Databases
Database
Types of Database and Brief explanation
System Databases
User Database
Database Architecture
Pages
Extents
File groups
Database
Transaction Architecture
Creating Database
Modifying Database
Adding Files
Moving and renaming of Database files
Database modes
Real time Scenario
Module 4: Security
Authentication Types in SQL Server
Types of Login
Windows Login
SQL Login
Creating Users and Logins
Server roles
Password policy
Understanding Database and Server Roles
Permissions
Working on access level issues
Orphan users Finding and Fixing
Important Queries
Module 5: Database Backups and Restoration
Database Backups
Why we need backups
Types of Backup
Full Backup
Differential Backup
Transaction Log Backup
Copy-only, Mirrored, Split and Tail log Backups
Differences between backups
Backup Strategy
Understanding how the data moving from Log to Data File,CHECKPOINT
Monitoring the space usage of Log File and fixing
Checking the backup files VALID or CORRUPTED
Backup storage tables
Important Queries
Performing Restorations
Types of Restoration
Attach and Detach
Shrinking files
Module 6: Recovery Models of Database
Types of Recovery Models
Full
Bulk Logged
Simple
Differences between Recovery Models
Setting Recovery Models according to the Scenarios with examples
Module 7: Automation of SQL SERVER
Working with SQL SERVER Agent
Creating Jobs
Managing Jobs and Resolving issues
Monitoring Jobs
Monitoring Tables
Log Shipping
Mirroring
Replication
Clustering
Python Training
Module 1 – Introduction of Python
Why python
What you need to get started
General purpose
Is python a scripting language?
Why use python in the RW?
What can you do with python
How to install python.
Module 2 – Installation Python/Basic Programming
Installing python
Windows Installation
Linux Installation
Environment variables
What is IDE?
ECLIPSE
How to download additional Diary.
Running python program
Data types
Object types
Python core data types
Strings
Strings (Methods)
Module 3 – Regular Expressions, Looping, its Packages and Object Oriented Programming
Data Types
Tuples
How to create notebook in python
Methods of tuple
Lists
Methods
Dictionary
Dictionary Methods
Advance string methods
String formatting
Obtaining keyboard input
Control flow
The if statement
Boolean logic
Break & continue
The for loop
The while loop
Control flow
What is a function
Syntax
Documentation
Arbitrary of arguments
Module 4 – File Operations and Deep Dive – Functions, Class, DBAPI, Errors and Exception Handling
File handling
File system
Opening files
Opening other file types
Exception handling
What are exceptions?
Object Oriented programming (OOP)
OOP basics
Defining a class
Special methods
Python DB API
SQLite
SQLite in python
Panda quick overview
Module 5 – Introduction to Hadoop and Hadoop with Python
The state of Data
Hadoop
Component of Hadoop
Why Hadoop is scalable
Hadoop eco system
Sqoop
Ambari
Zookeeper
Hadoop Incubator
Stack Implementation
Architecture of HDFS & Map reduce
HDFS feature
Map reduce Architecture
Map reduce Internals
Installation overview of Hadoop
Module 6 – Deep Drive for components and Function
Python Basics revisited
List components
Lamda function
List
Dict
Numpy
Matplot lib
Module 7 – Machine Learning Using Python
Panda
Introduction of panda
Key feature of panda
Importing the panda
Data structure in Panda
Importing data
Read table
Skip rows
Machine learning
Definition
Machine learning algorithms
Unsupervised learning
Real world example of machine learning
Statistical learning problem
Module 8 – Manage File System/Sandbox
Sandbox
How to take remote login of your sandbox
How to manage HDFS file system
Maper reducer
Module 9 – Machine Learning with Python
How to use Scikit-learn
Shape method
Get Datahome
How to do the machine learning
Spam detection
Module 10 – Server logs/Firewall logs
Server logs
Potential uses of server log data
Pig script
Firewall logs
Work flow editor
Module 11 – Detail Project
Web Logging in Python and End to end connects with all modules
Groupon Partner: Intellipaat Software Services
Intellipaat Software Services work towards helping you succeed in your professional career with quality and feasible training programs that can be accessed by millions of users across the globe.
Intellipaat is one of the market leader in providing online training across the globe. They have trained more than 120000 professionals and more than 40 corporates across the globe
Discuss this offer