Lunch & Midnight Buffets at Leaves - The Amogh Boutique Hotel, Banjara Hills
Banjara Hills: Lunch & Midnight Buffets at Leaves - The Amogh Boutique Hotel
Be a food engineer and have a ravishing meal with this Groupon.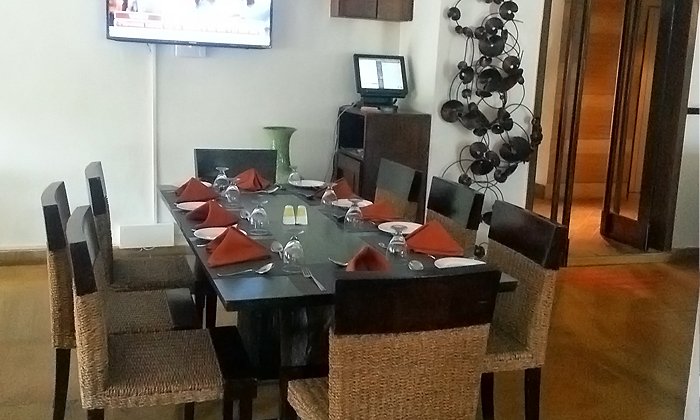 The Deal
Choose from the following offers for 1 person:
Offer 1 - Rs.249 instead of Rs.383: Lunch Buffet
Offer 2 - Rs.275 instead of Rs.431: Midnight Buffet
GROUPON MENU
Lunch:
Soup:
Salad: Four Varieties of Salads
Starters:
Veg Starter
Non-Veg Starter
Main Course:
Non Veg:
Sea Food Curry
Non-Veg Biryani
Non-Veg Curry
One Egg Item
Veg:
3 Varieties of Veg Curries
Veg Noodles
Chinese Wet Curry
One Variety of Dal
Sambar
Mirchi Ka Salan, Raitha, Dahi Vada & Plain Curd
Rice:
2 Veg Flavored Rice
Steamed Rice
Curd Rice
Desserts:
3 Varieties of Indian Sweets
Fresh Cut Fruits
Choice of Ice Cream
Midnight Buffet
Salad
Finger Cut
Cucumber / Carrot
Beetroot / Julienne Capsicum
Dressings:
Lemon
Vinaigrette
Thousand Island
Veg Soup
Live:
Main Course
Non-Veg:
Non-Veg Biryani
Haleem
Non-Veg Curry
Veg:
2 Veg Curries
1 Veg Noodles
1 Chinese Wet Curry
Dal Variety: Sambar
Mirchi Ka Salan, Raitha, Dahi Vada & Plain Curd
Rice
Veg Biryani
Steamed Rice
Curd Rice
Tandoor Rotis (Till 11:30PM)
Desserts:
2 Indian Sweets
1 Ice Cream
Timings:
Lunch Buffet - 12:30PM to 3:30PM
Midnight Buffet - 8:00PM to 1:00AM
Groupon Partner: Leaves Multicuisine Restaurant - The Amogh Boutique Hotel
Built in exotic Thai architectural style, The Amogh Boutique is a luxury hotel where functional elegance marries soothing comfort. Ensconced in the posh environs of Banjara Hills, The Amogh Boutique is the place to pamper your senses while attending to your business with ease. With interiors exuding Thai sensibility, our banquets are ideal for corporate gatherings, luncheon parties and special occasions. The banquet can accommodate about 125 persons in reception style, 60 person is cluster and about 60 persons in theatre style.
Discuss this offer