Haircut, Head Massage, Keratin Treatment, Makeovers and More at Head Turners, 8 Locations
- EXPIRED
Choose from 8 locations:
Ballygunge
Princeton Club
City Center 1, Block E
City Center 1, Block D
Howrah
Asansol
Durgapur
Kalikapur
FLAT 20% OFF on Bridal & Groom Packages
Unisex offer
One of the most reputed salons in Kolkata
Professional products used for services
Frequented by celebrities
Renowned unisex salon with professionally trained staff and highly reputed standards of personalized service
2nd Runners up of Color Trophy in 2007
World-class luxury products used for all services
Inclusive of all taxes and service charges
Hair color fades due to sun exposure and the passage of time, which is why it's best to stay inside the blanket fort you made when you were 8. Get color that stands up to the elements with this Groupon.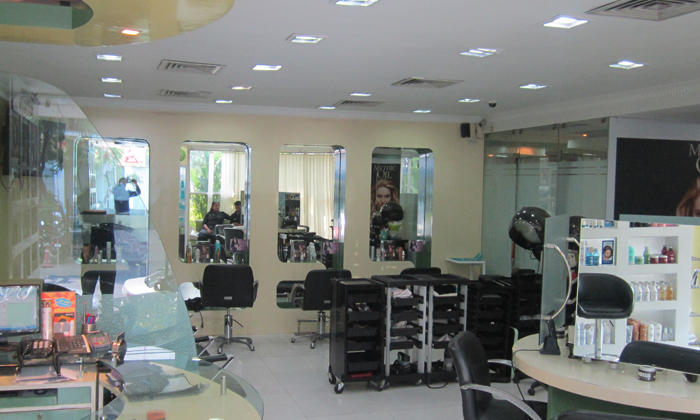 What is Steam Activated Pro-Keratin Hair Straightening?
Steam is the essential element that defines the form of the hair and has the power to cut weak links inside the hair fibre. That makes it soft and re-shapable. That's the advantage of the Steam Activated Pro-Keratin treatment. It penetrates into the hair with steam.Trapped between the floating plates, the hair gets "re-programmed" for the straightening process. The heat of the plates dries the hair as the water vaporises and the links inside the hair are restored.
Steam preserves the beauty of the hair.Water is an integral part if the hair fibre, it can represent upto 30% of its components. The continuous steam flow hydrates the fibre and prevents the hair from getting dry when the heat is applied.The Steam also protects the hair's integrity
LOCATION LIST
City Centre 1, Block D - Block-D-209, 2nd floor, City Center, Salt Lake
Ph - 8697974792
City Centre 1, Block E - Block-E-401, 4th floor, City Center 1, Salt Lake
Ph - 8697974791
Ballygunge - 3A, Gurusaday Road, Ballygunge
Ph - 8697974797
Princeton Club - 26, Prince Anwar Shah Road, Near Navina Cinema
Ph - 8697974793
Avani Mall (Howrah) - LG-9, Avani River Side Mall, Howrah
Ph-8697974794
Kalikapur - 1094, Purbachal Road, Opp. Bharat Petrol Pump, Kalikapur
Ph - 8697974707
Durgapur - Shop No.304, Junction Mall, Durgapur
Ph - 8697974795
Asansol - Shop No.312, 3rd Floor Glaxy Mall, Burnpur Road, Asansol
Ph - 8697974790
Groupon Partner: Head Turners
Head Turners is a unisex salon that offers a range of beauty services. Making use of the nest quality products, the beauticians here offer personalized service to ensure the customer is satisfied with their look. Starting from Haircuts, Facial, Body Massage to Hair Treatments, they have it all. They also bagged Color Trophy - 2nd Runner up prize in 2007. The interiors are soothing with its plush decor which rejuvenates your senses and helps you drive away stress from the day.
Discuss this offer