Choice of Buffets for up to 4 at Hyatt Place, Sector 18, Gurgaon
- EXPIRED
Located in Sector 18, Gurgaon
Freshest ingredients used
Led by experienced chefs
Inclusive of all taxes and service charges
Stop being sorry for what you said or did when you were hungry and get rid of the root of all evil - hunger, with this Groupon.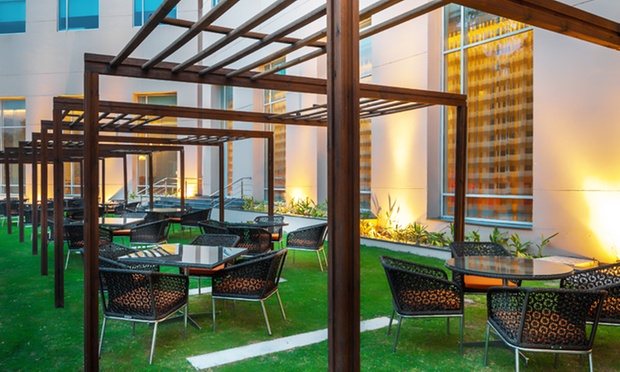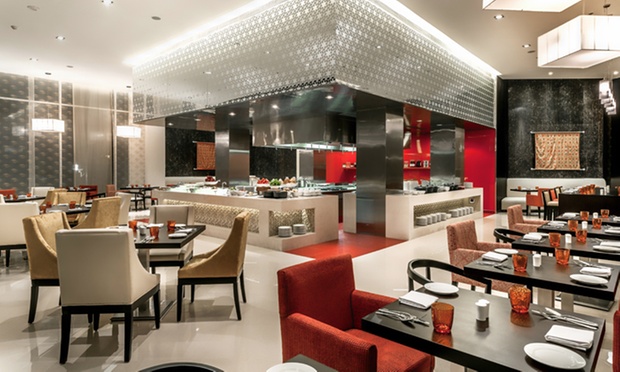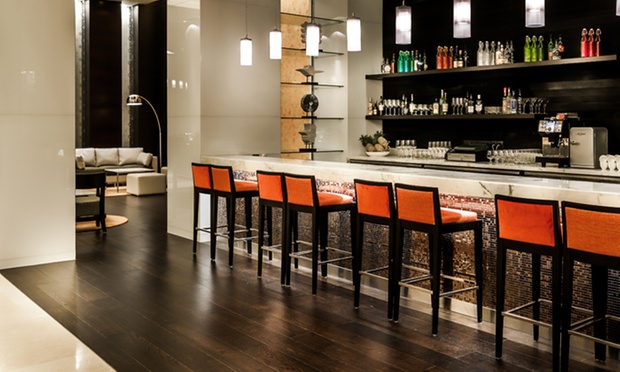 Buffer Breakfast
Beverage
Fresh Water Melon Juice
Fresh Orange Juice
Carrot and Celery Juice
Variety of Tea and Coffee
Breads Station
Hard Rolls / Soft Rolls / Multigrain Rolls
White and Brown Toast Bread
Multigrain Loaf
Butter / Mix Fruit Jam / Marmalade
Breakfast Pastries
Croissants (Egg Less)
Fruit Danish (Egg Less)
Chocolate Muffins
Vanilla Muffins
Banana Bread
Cut Fruits
Cantaloupe Melon
Papaya
Pine Apple
Whole Fruits
Cheese, Cold Cuts and Condiments
Brie
Yellow Cheddar
Chicken Salami
Homemade Tomato Jam
Walnuts / Fresh Grapes
Salad, Dressing and Condiments
Fresh Cut Cucumber
Fresh Cut Tomato
Garden Green Salad
French Vinaigrette
Balsamic Vinaigrette
Tomato Ketchup
Pommery Mustard
Dijon Mustard
Cereals, Condiments and Milk
Corn Flakes
Wheat Flakes
Chocos
Swiss Dry Muesli
Signature Bircher Muesli
Sunflower Seeds
Prunes
Almond Flakes
Honey
Skimmed Milk
Full Fat Milk
Yoghurt – Blue Berry Compote / Strawberry Compote
Hot Buffet
Idly
Sambar
Coconut Chutney / Tomato Chutney
Kanda Poha
Medu Wada
Aloo Tomatar Bhaji
Aloo Paratha
Breakfast Chicken Sausage
Potato Rosti
Baked Beans
French Toast
To Order
Dosa Station
Egg Any Style
Paratha / Poori
Buffet Lunch
Starter
Chicken Tikka / Mint Chutney
Vegetable Salt and Pepper
Soup
Salad
Roasted Potato, Romaine Lettuce, Caesar Dressing
Marinated Mushroom and Baby Corn
Mix Greens in Schezwan Sauce
Dressed Mediterranean Vegetables
Fish with Pesto
Herb Roasted Chicken with Grilled Vegetables
Condiments / Dressings / Papad / Pickle / Raitha
Indian Mains
Murgh Dahiwala
Paneer Lababdar
Subz Miloni Handi
Aachari Baingan Masala
Dal Palak
Steamed Rice
Assortment Of Indian Breads - By Order
Asian Mains
Vegetable Dumpling with Light Soya
Seasonal Vegetable with Butter Garlic Sauce
Thai Chicken Curry
Vegetable Fried Rice
Wok Tossed Noodles
Dessert
Dry Fruit Cake
Lemon Pie
Strawberry Pastry
Chocolate Bavarian (Egg Less)
Baked Yoghurt (Egg Less)
Phirni (Eggless)
Ice Cream – Butter Scotch / Vanilla / Strawberry / Chocolate
Buffet Dinner
Starter
Crumbed Fried Chicken Fingers / Aioli
Achari Paneer Tikka
Soup
Tamatar Dhaniya Shorba
Cream of Chicken Soup
Salad
Greek Salad with Feta Cheese
Honey Mustard Glazed Potato
Herb Roasted Vegetable with Romesco
Balsamic Onion with Semi-Secco Tomato And Feta Cheese
Grilled Chicken with Haricot Bean
Basa with Roasted Apple and Orange Vinaigrette
Condiments / Dressings / Papad / Pickle / Raitha
Indian Mains
Lamb Rogan Josh
Paneer Butter Masala
Subz Miloni Handi
Corn Palak
Dal Makhani
Steamed Rice
Assortment of Indian Breads
Western Mains
Pan Seared Fish Fillet
Spinach and Corn Cannelloni
Three Cheese Baked Carrot and Beans
Oven Roasted Sweet Potato
Herb Rice
Live – Pasta Station
Dessert
Rice Kheer
Chocolate Chip Pie
Fruit Slice
Coffee Almond Cake
Pine Apple Pastry
Raspberry Panna Cotta
Ice Cream – Butter Scotch / Vanilla / Strawberry / Chocolate
Groupon Partner: Hyatt Place
At Hyatt Place, you'll never have to settle for anything less than a freshly made meal, cold or hot beverage, a selection of specialty beverages, or a delightful bite of your favourite dessert. Relish an array of dishes specially prepared by a host of expert chefs and dine away to happiness.
Discuss this offer