Breakfast, Lunch & Dinner Buffet with Drinks at Viva - Leisure Inn, MI Road
MI Road: Breakfast, Lunch & Dinner Buffet with Drinks at Viva - Leisure Inn
Eat all you can with this Groupon to Cafe Viva and listen to happy purrs from your tummy after!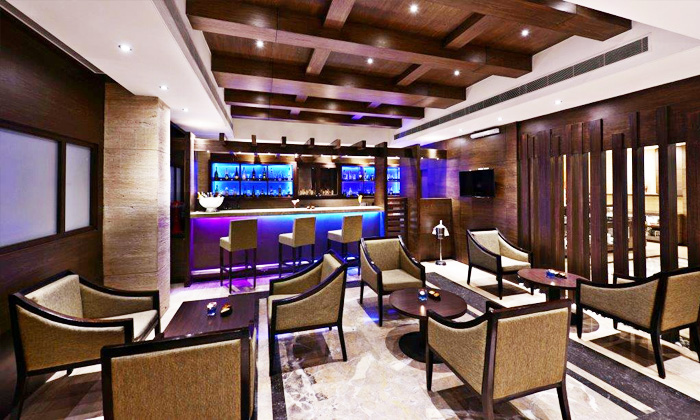 The Deal
Choose from the following offers:
Offer 1 for 1 Person (Valid All 7 Days) - Rs.199 instead of Rs.400:
Offer 2 for 1 Person (Valid Sat-Sun) - Rs.449 instead of Rs.824:
Offer 3 for 1 Person (Valid Sat-Sun) - Rs.519 instead of Rs.1100:
Buffet Dinner
1 Pint of Brewed Drink / Domestic Drink / Mocktail
Offer 4 for 2 Persons (Valid All 7 Days) - Rs.349 instead of Rs.600:
GROUPON MENU
Buffet Breakfast:
1 Fresh Juice
1 Canned Juice
3 Seasonal Cut Fruits
1 Milk Shake
1 Curd
1 Flavored Curd
Cheese Station
3 Salads
4 Cereals
Hot & Cold Milk
White / Brown Bread
4 Bakers Basket
2 Continental Preparations
2 South Indian Preparations
4 North Indian Preparations
Baked Beans
Porridge
Boiled Eggs
Live Egg Station
Tea & Coffee
Buffet Dinner:
1 Veg Soup
1 Non-Veg Soup
4 Salads
1 Curd Preparation
1 Raita
1 Non-Veg Starter
1 Veg Starter
2 Non-Veg Main Courses
1 Paneer Preparation
2 Indian Veg Preparations
1 Continental Preparation
1 Chinese Preparation
1 Steamed Rice
1 Flavored Rice / Noodle
Dal
3 Breads
4 Desserts
Lunch (For 2 persons):
2 Soups
1 Veg / Non-Veg Biryani
2 Desserts
Timings:
Breakfast: 7:00AM to 10:00AM
Lunch: 12:00 Noon to 3:30PM
Dinner: 7:30PM to 10:30PM
Groupon Partner: Viva - Leisure Inn
Leisure Inn Grand Chanakya is a newly opened, contemporary hotel located on Jaipur's bustling MI Road. The hotel's many facilities include a rooftop bar and grill, all-day dining restaurant, a specialty vegetarian restaurant, banquet and conference facilities, gym and business center.
Cafe Viva, the hotel's all-day dining restaurant and cafe is open 24hrs. Menu includes Indian, Chinese, Thai and Italian cuisines plus all-time favorites.
Discuss this offer