4-Course Lunch at Grand Chanakya Restaurant, MI Road
- EXPIRED
MI Road: 4-Course Dinner at Leisure Inn Grand Chanakya
If you're looking for food with some heart & soul, get this Groupon to Leisure Inn Grand Chanakya and indulge the foodie in you!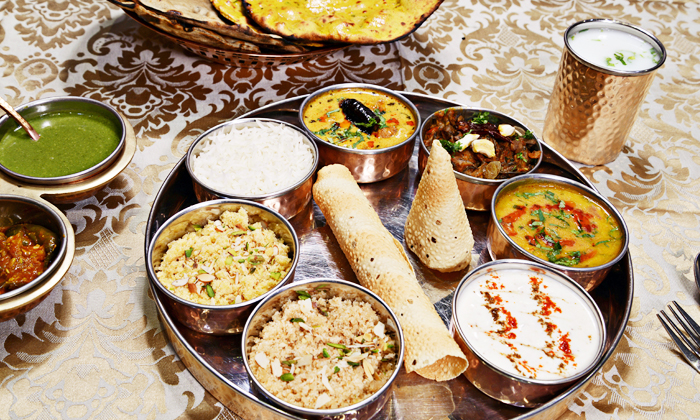 The Deal
Offer 1 for 2 Persons - Rs.499 instead of Rs.1350: 4-Course Veg Lunch

• 2 Soups or 2 Soft Beverages
• 1 Starter
• 1 Main Course
• 1 Dal or Raita
• 4 Breads
• 2 Desserts

Offer 2 for 3 Persons - Rs.699 instead of Rs.2000: 4-Course Veg Lunch

• 3 Soups or 3 Soft Beverages
• 1 Starter
• 2 Main Course (1 Paneer & 1 Other)
• 1 Dal or Raita
• 6 Breads
• 3 Desserts

Soups:
Tamatar Hare Sebh Ka Shorba – Hand-picked cherry tomato tempered with cumin seeds flavored with green apple
Khumb Dal Shorba – Mushroom and lentil broth scented with Indian spices
Moong Dal Pudina Shorba – Yellow gram tempered with garlic, simmered in water and flavored with fresh mint leaves
Starters:
Aloo Corn Till Ki Tikki – Patties made up of baby potatoes and corn nibbles crumb fried with white sesame seeds
Basmati Laung Ki Tikki – Dumplings made of basmati rice flavored with cloves and deep fried
Kurkuri Kumbh – A chef's specialty - deep fried rolls made with the stuffing of mushroom and cheese
Tandoori Haryali Subz Seekh – Minced fresh garden fresh vegetables rolled in skewer and cooked in clay oven
Aloo Nazakat – Potato stuffed with dry fruits and coated with sesame and
deep fried
Main Course:
Paneer Kurchan – Juliennes of cottage cheese cooked in chef's secret gravy
Navaratan Korma – Nine gems made up of hand-picked garden vegetables fruits and nuts cooked in rich cashew cream
Lasooni Corn Palak – Fresh spinach and corn flavored with garlic and whole red chilly cooked with indian spices
Mangodi Papad Ki Subzi – Thin Indian lentil wafers and sun dried yellow lentil dumpling cooked in yoghurt gravy
Aloo Payaaz Ki Subzi – A real treat for potato and onion lovers, spiced up the Rajasthani way
Gatta Curry – Dumplings of ground floor steamed and cooked in yoghurt gravy
Palak Papad Ki Subzi – Fresh spinach cooked with gram flour crisps flavored with cumin
Dal Makhani Tadka – Slow cooked black lentils finished with butter and cream
Lehsuni Dal Tadka – Yellow lentils tempered with cumin and garlic
Indian Breads
Roti / Naan – 2 per Person
Dessert:
Gulab Jamun – Reduced milk dumplings deep fried in a rose scented sugar syrup
Moong Dal Halwa – Made with yellow gram and cooked in ghee
Choice of Ice Cream – Vanilla / Strawberry / Chocolate
Soft Beverages
Timings: 12.00 Noon to 3.00PM
Groupon Partner: Leisure Inn Grand Chanakya
Leisure Inn Grand Chanakya is a newly opened, contemporary hotel located on Jaipur's bustling MI Road. The hotel's many facilities include a rooftop bar and grill, all-day dining restaurant, a specialty vegetarian restaurant, banquet and conference facilities, gym and business center. Cafe Viva, the hotel's all-day dining restaurant and cafe is open 24hrs. Menu includes Indian, Chinese, Thai and Italian cuisines plus all-time favorites.
Discuss this offer