22 Module Comprehensive Photography & Photo Editing Course with Video Tutorials at Illuminati ImageAcademy, Online
- EXPIRED
Online Service
Includes Photography Basics as well as professional photography and introduction to post processing
Life time Access to Online Course, which contains video tutorials
Access to photo editing software & material
Course is designed for any camera users including DSLR, point & shoot, mobile and iPhone camera
Certificate of participation given to students
Study material is designed by taking input from multiple international journals, books written by world famous photographers like Scott Kelby, David Peterson as well from team illuminati's decades of professional experience in photography & film industry
Clients include Capgemini, Green Hoper model management, Elite Model Flatt, Cogxio – online dating & matchmaking site along with couple of production houses in South Indian movie and advertisement industries
Featuring student's photos and name in our gallery
Everyday photography tips via social media
Periodic Photo contests to improve your skills
Learn techniques followed by professional photographers
Learn to make your own studio
You don't need a DSLR for the course, You can use the tools present in our studio
Lifetime membership to club Illuminati, interact with fellow members of the community (more than 4000 members across the country).
Share & learn ideas from each other participate in discussion forums, get review comments in your photos and ways to improve your skill
Inclusive of all taxes and service charges
A good eye, is a trained eye. Channel your photography skills with professional help with this Groupon.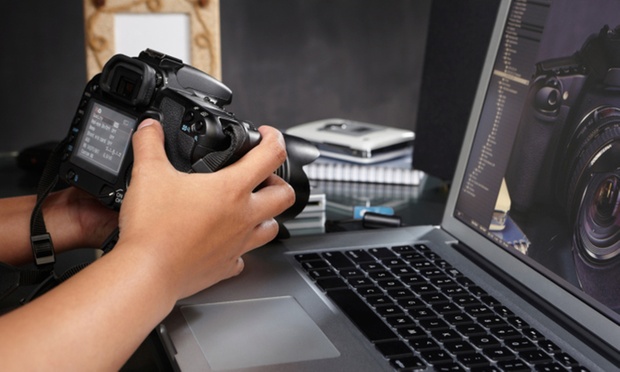 Module 1:
Before you take a photo- Visualize an image
Is there anything about photography that you need to know before knowing the technology
What is Visualization
How to 'Make an Image' and not just 'Click a photo'
'A picture speaks a thousand words', but how many people have listened to your photo's voice
Basics of Digital Photography
Technology of photography
How a digital image is formed
Pixel & RAW De-mystified
Optical zoom & Digital zoom
Module 2:
Knowing your camera & handling it
Have you explored all buttons, menus and options in your camera
Get the best of your current gear
Understanding your user manual
Modes in DSLR Camera
What are the various modes in DSLR camera
Which mode shall I use now
When & where do I use other modes
Module 3:
Exposure Concepts
EXPOSURE – Exposed!!
What is the effect of exposure on photographs
How to control & get the best of exposure
Aperture Demystified
What is Aperture?
What is the effect of Aperture on photography
How to control Aperture
When to use which Aperture setting
Shutter Demystified
What is Shutter & Shutter Speed
What is the effect of Shutter speed on photography
How to control Shutter speed
When to use which Shutter speed
ISO Demystified
What is ISO Sensitivity
What is the effect of ISO Sensitivity on photography
How to control ISO Sensitivity
When to use which ISO Sensitivity setting
Combination of Aperture, Shutter speed & ISO Sensitivity
Which should you set first? Aperture, Shutter speed or ISO sensitivity
How does the combined setting affect your photography
How to get the best combination of Aperture, Shutter speed & ISO sensitivity
Module 4:
Depth of Field
What is depth of field and it's importance in photography
Factors affecting depth of field
Which depth of field makes a good photograph
What tools you need to get your desired depth of field
How to get the desired depth of field without the required tools
Module 5:
Metering
What is metering and it's affect in photography
How to control Metering
What is the right metering setting for which type of photography
Focusing
What is Focusing & Auto Focusing
Auto Focus Area & Auto focus types
Which auto focus setting and which auto focus point is right
White Balance
What is metering and it's affect in photography
How to control Metering
What is the right metering setting for which type of photography
Module 6:
Composition
What is a good composition
How to achieve an attractive composition with least effort
Composition rules
Module 7:
Lenses
Introduction to various types of lenses
Which lens is good for you
Which is the first extra lens that you need to buy
Good camera vs good lens
Module 8:
Introduction to Professional Photography
Why some photos look professional and some not
Is it only about high-end tools & gears
Basic rule of professional photography
Module 9:
How to shoot stunning portrait/people
Learn the best composition for shooting people
Which light works the best for portrait
Lenses, equipment and set up for portrait photography
Shooting Kid's portrait
Module 10:
How to shoot memorable Events & Weddings
How to get best Composition among chaos at Events
What tools required & how to set them up
Must to capture moments
Dos & Don't for event photography
Ensuring backup tools, photos & other things
Module 11:
How to capture Lively Landscapes
The right time
The right Angle
Must to capture places wherever you go
Challenges & overcoming them
Tools required and using them
Module 12:
How to capture breathtaking flowers and absolute macros
Get the best composition out door/indoors
Right angle to take picture
Tools suggested
Tricks which can be used
Module 13:
How to get the best photos in Low light/Night
Composition for Night Landscape
Light vs Depth of field
Right use of tools
Module 14:
Image format, Noise & Zoom
Various image formats & their use
What is noise and how to avoid it
Optical zoom & Digital zoom
Module 15:
Your first professional camera
Factors to look and not to look for
How to research about various cameras
Dos & Don't while selecting
How to upgrade your existing camera
Module 16:
Take care of your gear
Things to be careful of
Things you need to buy to protect your camera & accessories
Module 17:
Accessories you need to buy
Good to have vs must have accessories
How to use accessories properly
How to take care of accessories
Module 18: Basic Photo editing
Module 19: Make your own studio
Module 20:
Becoming a professional photographer
Taking good photos vs. getting paid for taking photos
How to network
Pricing your work
Photo folio
Module 21:
Playing with colors
Hue
Saturation
Contrast
Histogram
Viggenett
Module 22: Advance photo editing in Photoshop.
Groupon Partner: Illuminati ImageAcademy
Illuminati ImageAcademy is a portal where you'll be exposed to rich knowledge and information about photography as an art. It doesn't matter if you are a beginner or trying to establish yourself as a professional photographer; the academy offers courses for all
Discuss this offer