Choice of Buffets & UNLIMITED Drinks at SSence - The Suryaa, New Friends Colony
- EXPIRED
Ssence is the newly opened world cuisine restaurant at The Suryaa
6 types of station- 14 types of Salad, 11 types of starter, 2 soups, 12 types of main course, 12 types of dessert.
Have rounded up world favorite delicacies in our menu at Ssence
A Culinary showcase of the world at Ssences
Located in New Friends Colony
Inclusive of all taxes and service charges
There's a hot newcomer on the dining scene and this Groupon's going to take you there. Grab one to Ssence - The Suryaa and let new flavors entice your taste buds.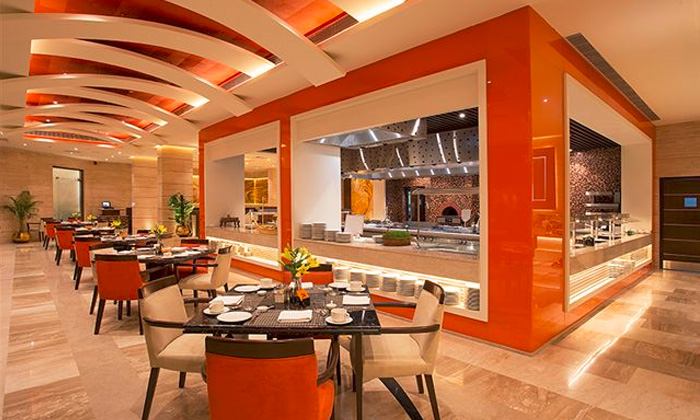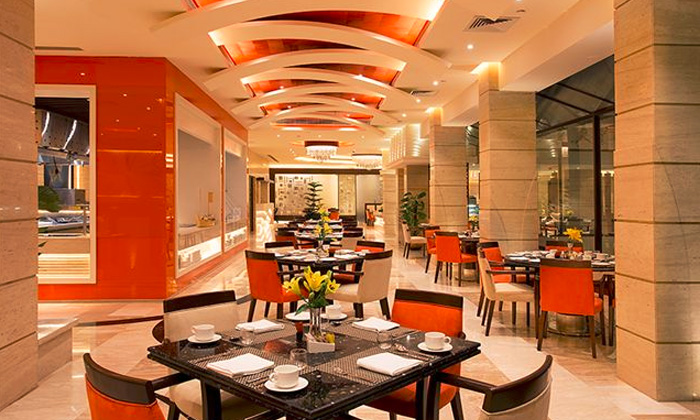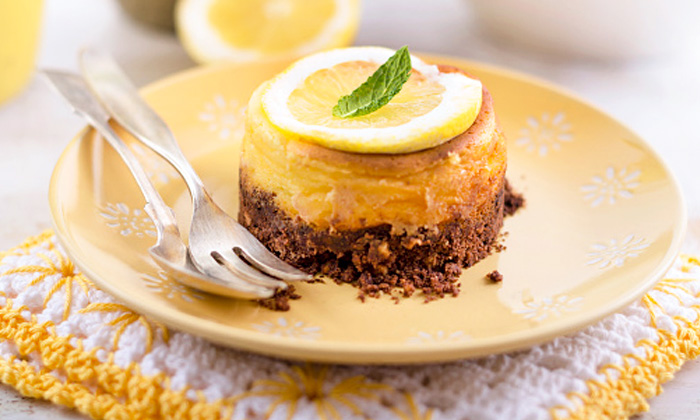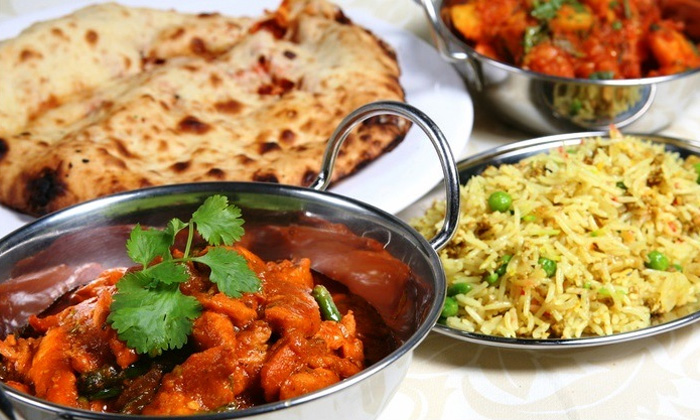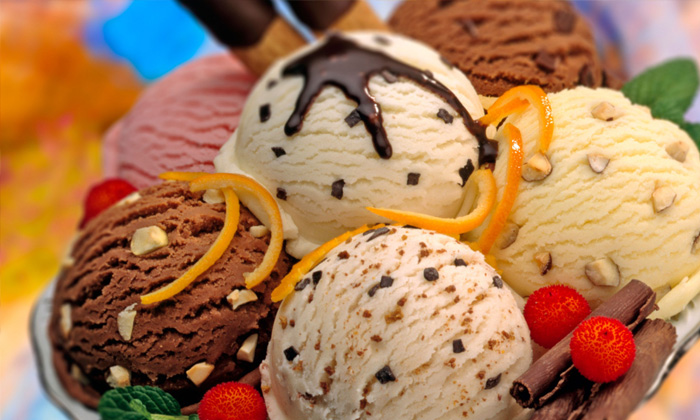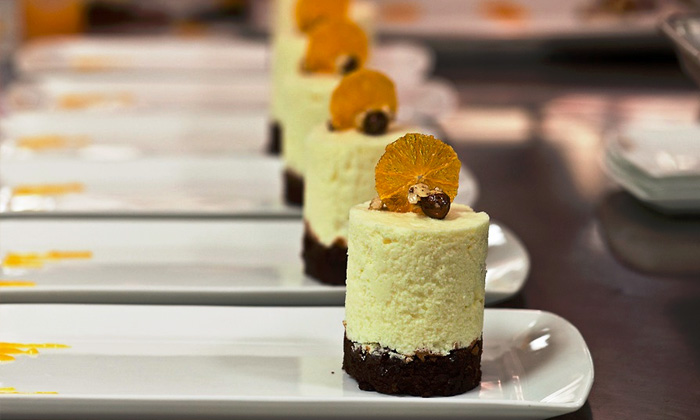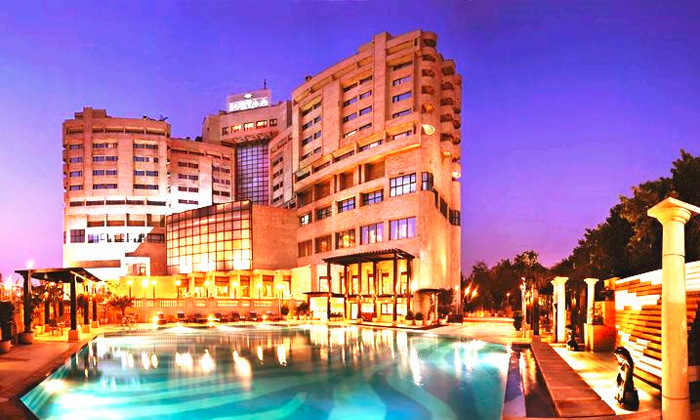 6 Stations
Salads
Soups
Starters
Mains
Live Pizza and Pasta
Desserts
Salads
Lettuce
Baby Spinach
Rocket
Lolo Rosso
Iceberg
Endive
Romain
Dressing
Balsamic Vinaigrette
Honey Mustard
Thousand Iceland
Blue Cheese
Condiments
Marinated Olives
Sun-Dried Tomato
Sweet Corn
Croutons
Capers
Lemon
Shallots
Sour Cream
Chopped Parsley
Mustards
Pomary
Di-Jon, Sun-Dried Tomato
Chili
Mango
Passion Fruit
Vinegar
Red Drink
White Drink
Balsamic
White Balsamic
Sherry
Apple Cider
Cold Cuts
Parma Ham
Black Forest
Chicken Mortadella
Salmon
Cheese
Shooters
Sprouts
Mustard
Peas
Wheat Grass
Lentil
Mezze
Hummus
Labneh
Baba Ganoush
Pita
Crudites
Carrot
Cucumber
Radish
Tomato
Dips
Tomato Salsa
Guacamole
Basil Pesto
Muhmmarra
Whole Fruits
Apple
Banana
Fresh Tamarind
Plum
Grapes
Pears
Soup
Tomato Cilantro
Sesame-Scented Crab Soup
Starters
Western Hot
Seafood – Viracruz
Poultry – Durby
Red Meat –Tatkani Tender
Corn Pepper Quese
Mexi Skin Potato
Grilled Sicilian Vegetables
Live Pasta and Pizza
Indian Hot
Palak Cheese Kebab
Subz Seekh
Kasondi Fish Tikka
Afghani Tandoori Murgh
Main Course
Indian
Dal Makhani
Dal Palak
Gobhi Kaju Adraki
Aamchuri Bhindi
Paneer Mumtaz Bano
Punjabi Kadi Pakoda
Gosht Parda Biryani
Amritsari Wadi Pulao
Steamed Rice
Asian
Chicken Mangol Curry
Singapore Noodles
Silken Tofu with String Beans
Desserts
Mango Burfi
Rasmalai
Rasgulla
Moong Dal Halwa
Fruit Tart
Creama de Catalana
Chocolate Chili Pastry
Hazelnut Pudding
Strawberry Mousse
Florida Gateau
Bread and Butter Pudding
Passion Fruit Parfait
Oven Baked Croissant & Muffin
Cereals with Milk and Honey
Fresh Juice

Salad
Green Salad – Assorted Lettuce and Dressings
Vegetable Crudites – 4 Types with Dips
Nachos with 3 Dips
Mezze - Pita with 3 Dips
Cheese Selection – 4 types with Walnut, Apricot and Crackers
Cold Cuts – Smoked Salmon and Chicken Mortadella
Sushi Veg and Non-Veg – 1-1 Type
Green Cress (Sprouts) – 2 Types
Herb Oil, Balsamic, Marinated Olive, Marinated Cheese (Feta OO Boccoccini)
Salad 1 – Horiyatiki Salad
Salad 2 – Waldorf Salad
Salad 3 – Chef's Choice
Salad 4 – Tenderloin Carpaccio
Salad 5 – Fish Terrine
Salad 6 – Roast Lamb with Sesame Seeds
Live Counters
Lava Grill (Prawn, Fish, Chicken Breast, Lamb Chop, Cottage Cheese, Vegetable)
Pasta Bar
Pizza
Eggs to Order
Soup
Veg Soup – Spinach and Corn Cream
Non-Veg Soup – Sesame Oil Scented Crab Soup
Bread Sticks

Starter
Veg 1 – Veg Galouti
Veg 2 – Tandoori Ilaychi Wali Broccoli
Non-Veg 1 – Amritsari Murgh Tikka
Non-Veg 2 – Lamb Galouti
Main Course

Indian
Chicken – Murgh Tikka Masala
Mutton – Sikandari Raan aur Paya Ras
Biryani (Non-Veg) – Gosht Dum Biryani
Paneer – Paneer Makhani
Veg 1 – Kathal Hara Pyaz
Veg 2 – Methi Aloo
Veg 3 – Mushroom Mattar Makhana
Dal 1 – Dal Makhani
Dal 2 – Dal Wadi
Steamed Rice
Veg 4 – Multigrain Pulao
Dahi Bhalla, Raita, 4 Types of Pickle, 4 Types of Chutney, 2 Types of Papad

Western
Fish – Baked River Sole with Avocado and Coconut Salsa
Tenderloin – Tenderloin Wellington
Potato – Pomes Spetzial
Vegetables – Root Vegetable Gratin
Veg – Bean and Cheese-Filled Saffron Crepes
Veg – Butter Glazed Witer Vegetables
Tapas – Pan Con Tomat
Tapas – Spinach and Walnut Fatayer
Tortilla – Espanola
Tortilla de Cameroon

Asian
Noodle – Cantonese Noodles
Veg – Hartinchoi Vegetable
Chicken – Chicken Odobo
Pork Local OR Seafood BBQ Pork Ribs

Desserts
Cake 1 – Lemon Cheese Cake
Cake 2 – Black Forest
Tart – Apple Crumble Tart
Mousse – Passion Fruit Mousse
French Pastry 1 – Pineapple Pastry
French Pastry 2 – Red Velvet Pastry
Pudding – Warm Chocolate Pudding
Cup Cake – Vanilla Cup Cake
4 Types Indian Desserts – Rasmalai, Gulab Jamun, Hot Jalebi, Pista Burfi
Macaroon
Jujubes
Marshmallows
4 Types of Sauce
4 Types of Cut Fruit
Groupon Partner: The Suryaa
A full-fledged business hotel, The Suryaa hotel is located in the heart of New Delhi and is close to the business district of the capital. The hotel offers a host of facilities and services designed to meet business needs. The hotel has 242 guest rooms and suites complete with modern amenities and facilities coupled with warm service.
At the Atrium, themed live creations are available in the evenings throughout the week. Its menu includes a variety of cuisines, a comprehensive beverage selection, an array of short-eats and health-bites. The newly opened SSence is a world cuisine restaurant.
Discuss this offer