4-Course Meal & Drinks at Smokey's BBQ & Grill, GK - 2, New Delhi
GK - 2, New Delhi: 4-Course Lunch & Drinks at Smokey's BBQ & Grill
Almost as pleasurable as a restaurant's food are the little rituals that go along with it: perusing the menu, anticipating the meal, and hiding under the table and grabbing passing waiters by their ankles. Take in the whole experience with this Groupon.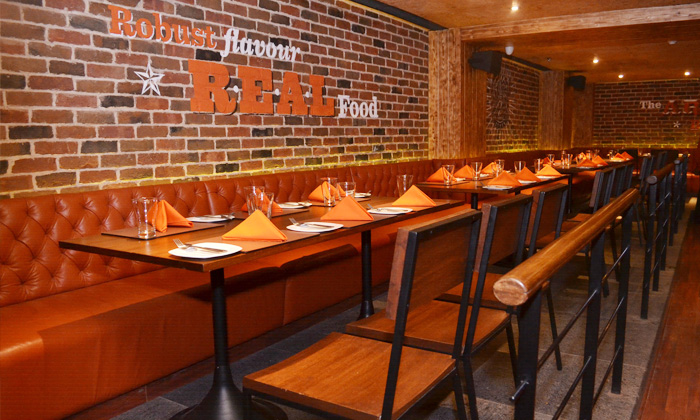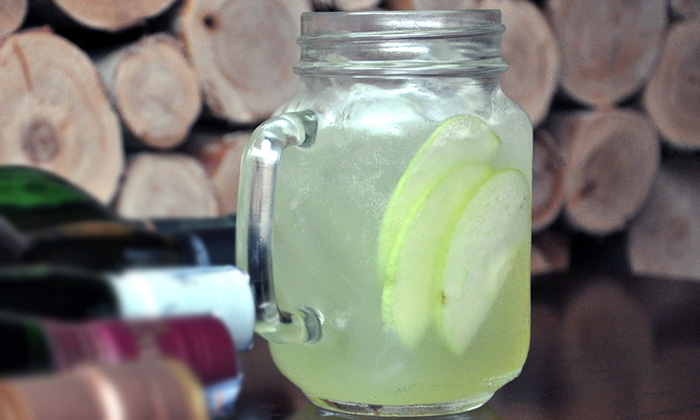 The Deal
Choose from the following food & drinks:
Offer 1 (Early Bird) for 2 Persons - Rs.1299: 4-Course Meal + 4 Mocktails Offer 2 for 2 Persons - Rs.1499: 4-Course Meal + 4 Mocktails Offer 3 for 2 Persons - Rs.1699: 4-Course Meal + 4 Domestic Drinks Offer 4 for a Couple - Rs.1999: 4-Course Meal + 2 Glasses of Red OR White Drink

4 Course Meal Includes:
1 Starter
2 Soups / 2 Salads
2 Main Courses
2 Desserts
Appetizers
Loaded Potato Skins - Potatoes stuffed with sour cream, chives and baked with cheddar cheese
Yellow Chili Marinated Cottage Cheese Skewers - Grilled cottage cheese and pepper skewers marinated with yellow chili
Grilled Fish Red Harissa - Vietnamese basa marinated with red harissa and grilled
Charred Chicken Skewers - Deboned chicken leg skewers marinated with hung curd, basil and lemon
Soup: Soup of the day
Salads
Greek Salad - Cherry tomatoes, black olives, cucumber and onions served with mixed lettuce and crumbled feta cheese - balsamic drizzle
Smoked Chicken Caesar Salad - Smoked chicken dressed in a classic caesar dressing served with croutons and grated parmesan
Pastas and Mains
Peppered Cottage Cheese with Market Vegetables - Pan seared cottage cheese steak and pepper served along with house bbq vegetables
Spinach and Ricotta Ravioli -Ravioli stuffed with spinach and ricotta tossed in a tangy tomato caper sauce
Wild Mushroom Risotto - Risotto flavored with mushrooms and served along with buttered croutons
Smokey's Style Spaghetti - Fusilli pasta tossed along with a spicy meat sauce flavored with coriander
Ras el Hanout Marinated Red Snapper - Red snapper marinated with ras el hanout served with spicy rice and lemon butter sauce
Grilled Chicken Breast with Chili Lemon Rind and Thyme - Grilled chicken breasts marinated in smoked reshampatti chili and thyme served with chicken jus and side salad
Desserts
White Chocolate Mousse Paffe - Chilled white chocolate mousse with pistachio and dark chocolate
Banoffee Pie - Homemade pastry topped with toffee, cream, banana and grated chocolate
Mocktails
Fresh Watermelon + Mint, Demerara, Macerated Lime, Lemonade
Fresh Apple + Mint, Demerara, Macerated Lime, Apple Juice, Lemonade
Fresh Cucumber + Mint, Celery Salt, Sprite
Fruit & Herb Infused Iced Teas
Timings:
Lunch - 12:30PM to 4:00PM (Wed-Mon) Dinner - 7:00PM to 11:00PM (Sun - Thu)
Groupon Partner: Smokey's BBQ & Grill
Smokey's BBQ & Grill is a friendly, casual diner, by people who love food, for people who love food, Smokey's BBQ and Grill is an exciting new entrant into Delhi foodie-sphere. Comfortable, but exciting at the same time, it's the sort of place to go with friends when you're looking for heady drinks, hearty meals and a whole lot of entertainment.
Discuss this offer