Sushi, Salads and Drinks for 2 at Hibachi - Hotel Icon, Madhya Marg
- EXPIRED
Madhya Marg: Sushi, Salads and Drinks for 2 at Hibachi - Hotel Icon
When the going gets tough, the tough gets boring. Don't be boring and opt instead for the variety and surprise factor that comes with a buffet! Get this Groupon to keep things edgy and exciting, palate-wise.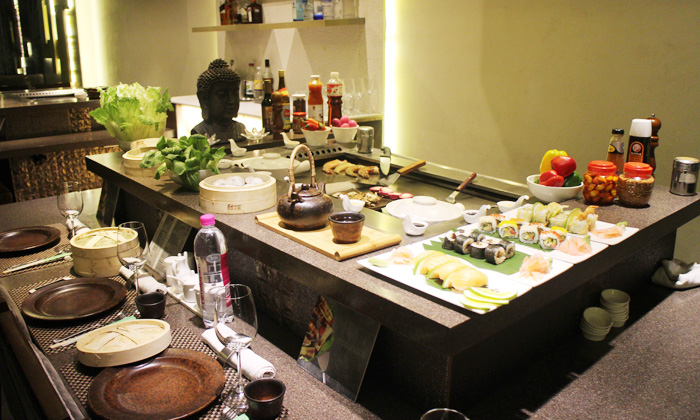 The Deal
Choose from the following offers for 2 persons:
Offer 1 - Rs.499 instead of Rs.1000:
1 Portion of Veg Sushi
1 Salad of the Day
2 Mocktails / Soft Drinks
Offer 2 - Rs.599 instead of Rs.1450:
1 Portion of Non-Veg Sushi
1 Salad of the Day
2 Mocktails / Soft Drinks
Offer 1: Veg Sushi (Any 1)
Uramaki
Sunset California Roll
Hoso Maki
Futa Maki
Offer 2: Non-Veg Sushi (Any 1)
Uramaki
Salmon Nigiri
Philadelphia Maki Roll
Tuna Maki Roll
Timings:
Lunch - 12:30PM to 3:30PM
Dinner - 7:30PM to 10:30PM
Groupon Partner: Hibachi - Hotel Icon
Hibachi, located within Icon Hotel in Sector 8C serves Pan- Asian cuisines, with emphasis on "Teppanyaki- Live grilled Japanese food made with showmanship" in an informal and pleasant atmosphere. "Hibachi means a clay cooking pot which is symbolic of community cooking and dining. Hibachi is an Asian fine dining restaurant which serves cuisines from Eastern and South Eastern Countries of Asia – Japan, Korea, China, Vietnam, Thailand, Indonesia, Malaysia and Singapore. There are two teppanyaki grills which are the central feature of the restaurant. There is an Interactive kitchen where guests are encouraged to chat with the Chefs and get their dishes customised as per their wishes. Apart from Teppanyaki (Chandigarh's first Teppanyaki focused restaurant) Hibachi also has, tempura, Sushi, curries and stir fries. Fried ice-cream and spiced Chocolate Volcano are their specialty desserts.
Discuss this offer