Beat the Summer at Café Coffee Day! Buy 1 Get 1 FREE (BOGO) CCD Voucher Valid only on Beverages. Valid across India.
- EXPIRED
Pay Rs.39 ONLY for a 'Buy 1 Get 1' CCD voucher
Valid only on Beverages
Choose from hot coffees, cold coffees, hoteas, frosteas, chocoholicas, fruiteazers and More
Multiple vouchers can be used during separate visits
What makes CCD so awesome? Read on:
Sprawling space with warm décor
CCD is India's largest and coolest chain of cafés
CCD has several prestigious awards to its credit, including the Most Admired F&B Retailer of the Year: Juice Bars and Parlors at the Coca Cola Golden Spoon Awards 2010
Click here to locate a CCD store near you
Inclusive of all taxes and service charges
Until public transit officials make our dream of commuting to work by roller-coaster a reality, we'll have to settle for the adrenaline rush of traditional pick-me-ups. Percolate perkiness with this Groupon for coffee and more from your friendly neighborhood café – Café Coffee Day.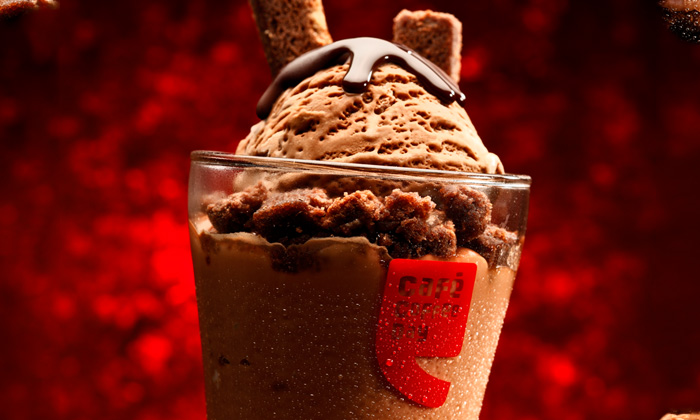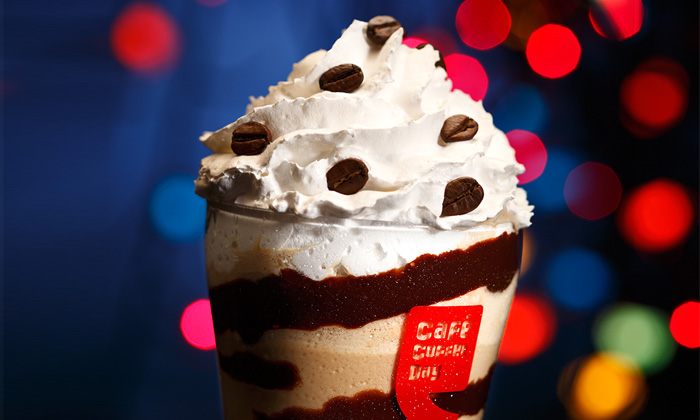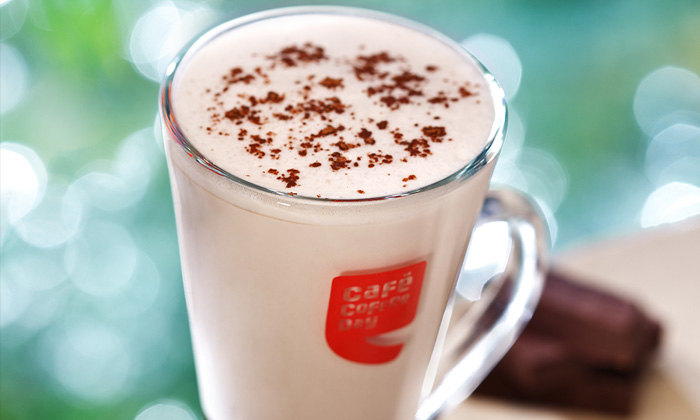 GROUPON MENU
Assam Tease
Black Coffee Square
Black Coffees
Black Currant Blast Slush
Café Frappe Slush
Cold Choco Latte Slush
Cold Sparkle Slush
Combo Araku Emerald
Combo Columbian Supremo
Combo Costa Rican Tarrazu
Combo Ethiopian Sidamo
Combo Indian Kathlekhan Superior
Combo Mneb Cappuccino
Combo Mneb French Press
Combo Peruvian Chanchamayo
Combo Rajgiri Pearl
Cool Blue
Costa Rican Tarrazu - Cappuccino Style
Darjeeling Spell
Darjeeling Tea
Devils Own Slush
Devils/Own
Devils-Own
French Press
Green Tea
Hot Coffee-X
Iced Cappuccino
Iced Eskimo Slush
Indian Kathlekhan Superior - Cappuccino
Indian Kathlekhan Superior-Americano
Indian Kathlekhan Superior-Filter Coffee
Indian Katlekan Superior-Americano
Kaapi Nirvana Slush
Lemon Cucumber
Lemon Darjeeling-Tea-N
Lemon Green-Leaf Tea-N
Lemon Ice Tea
Lemon Masala-Chai-N
Lemon Mojito
Lemon Pomegranate
Lounge Cappuccino
Lounge Latte
Lounge-Frappe
Lychee Frost Tea
Macchiato Square
Macchiato
Maharaja Crush
Mango Shake Slush
Mango Shake
Mango Square-Yogurt
Masala Chai Frappe-Ds Premix
Masala Lattea
Masala-Chai-N
Matcha Chai Fr-Cafe Gelati
Matcha Chai Fr-Ds Premix
Matcha Lattea
Mneb - Cappuccino Style
Mneb-Americano
Mneb-Filter Coffee
Mocha Square
Peach Smoothie
Peach Smoothie-Ice Cream
Peruvian Chanchamayo - Cappuccino Style
Peruvian Chanchamayo
Pour Over
Rajgiri Pearl
Rajgiri Pearl-Americano
Rajgiri Pearl-Filter Coffee
Sample-Columbian Supremo
Sample-Costa Rican Tarrazu
Sample-Ethiopian Sidamo
Sample-Indian Kathlekhan Superior
Sample-Peruvian Chanchamayo
Sinful Chocolate Coffee-New
Siphon
Skimmed Milk Cafe Latte
Skimmed Milk Cappuccino
Slim Grande Cappuccino
Slim Grande Latte
Slim King Cappuccino
Slim King Latte
Slim Lounge Cappuccino
Slim Lounge Latte
Snowy Vanilla Frappe-Cafe Gelati
Snowy Vanilla Frappe-Dsp
Strawberry Banana Smoothie
Strawberry Banana Smoothie-Ice Cream
Strawberry Iced Tea
Strawberry Lemonade
Strawberry Shake
Strawberry Square-Yogurt
Sulemani Chai
Water Melon Chiller
Water Melon Spritzer
Groupon Partner: Café Coffee Day
Quick to rise as the most popular landmark in every city it hits, CCD is clearly India's favorite coffee shop. The sprawling space with warm décor – furnished in tender browns and vibrant reds – makes it an ideal destination for snug dates and gleeful get-togethers. The aroma of freshly ground coffee hits you even before you walk to the counter. The heady smell lingers on and makes for a great conversation starter.
BOGO
Discuss this offer